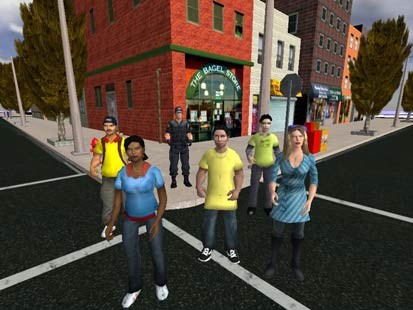 In what is likely the most interesting immigration-related news tidbit in the pop culture sphere, ABC News reports that a New York-based human rights group called Breakthrough has designed a video game called "ICED!", or "I Can Escape Deportation!".
The game, free to download
here
starting this September, allows players to step into the role of an undocumented immigrant in the United States, with the ultimate goal of avoiding deportation by the immigration authorities.
From the ABC News article:
ICED! players are required to make "moral choices." Jumping turnstiles in the subway or robbing stores causes players to lose points and puts them in danger of getting caught by an immigration official and detained or deported.

Conversely, players can gain points and avoid detention by planting trees, helping the elderly or volunteering around their community.

According to Breakthrough's Web site, the game simply and directly "teaches players about the unjust nature of U.S. immigration policy."
Random deportation trials, long lines to use the phone and sexual harrassment in detention centers are among the situations depicted in the game.